#Cleantech renewable energies
a
re you ready for it ?
our focus

Getting the sustainably best in class energy return out of our customers' with cleantech renewable systems
because
We have the know how and solutions
which renewable cleantech energy systems
and technologies
fits best for you and your project
We focus on opti­miz­ing all aspects of our cus­tomers renew­able clean­tech ener­gy sys­tems project
and invest­ments in a sus­tain­able way.
We take care of our cus­tomers' project assets as if they were our own.
let's consult and develop it now
together

We are an expe­ri­enced, inde­pen­dent and inno­v­a­tive clean­tech con­sul­tant
and project devel­op­ment com­pa­ny and trust­ed advi­sor with­in all stand alone
and com­bined clean­tech renew­able ener­gy projects world­wide.
With us as your trust­ed advi­sor you get one point of con­tact and local mar­ket knowl­edge
as well with tech­ni­cal and oper­a­tional expe­ri­ence with over 100 Mio. active
and poten­tial clients and licencees,
more than 420 clean­tech solu­tions and 54 part­ners
and inven­tors world­wide how Bertrand Piccard's ini­tia­tives
of Solar Impulse Foun­da­tion.
We are Mem­ber and Part­ner of
Marine Foun­da­tion

NGO

/

NRO

non prof­it aid organ­i­sa­tion for chil­dren, fam­i­lies and small vil­lages
S-GE switzer­land glob­al enter­prise — enabling new busi­ness
IRENA

— Inter­na­tion­al Renew­able Ener­gy Agency — assosi­cate mem­ber and sup­pli­er
myCleantechSmart-me Smart Home
&

Grid™ für

ALLE

— smart-me Cloud

&

App

KOSTENLOS

&

Energiemessgeräte Hardware

SET

1 ab…

K20190301-00–10SET1-D10 Let's devel­opp your renew­able project togheter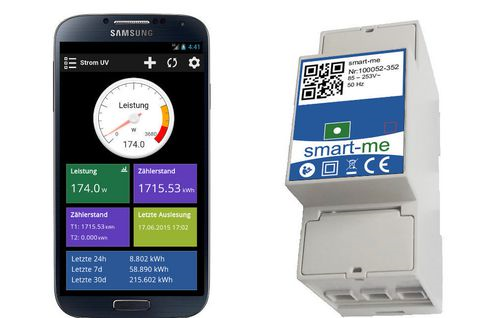 Automa­tisieren und ver­wal­ten Sie alle Ihre elek­trischen Geräte mit ein­er einzi­gen, ein­fach zu bedi­enen­den App. smart-me bringt Ihre Pho­to­voltaikan­lage, Boil­er, Wärmepumpe und andere Energie­ver­brauch­er und-Erzeuger im Gebäude auf ein­er Plat­tform zusam­men, sodass Sie Energie schlauer nutzen. Fol­glich sehen Sie live, welche Geräte ger­ade an- oder aus­geschal­tet sind und wie viel Strom sie jew­eils ver­brauchen.
0.0 — smart-me Auf­bau, Inbe­trieb­nahme und Mon­tage­ser­vice — schlüs­selfer­tig
1.0 — smart-me

PLUG

CH

—

EU

—

UK

—

USA

— Funksteck­dose — Mul­ti­funk­tion­s­gerät · Bidi­rek­tionales Energie- und Leis­tungsmess­gerät · Tem­per­aturmess­gerät · Fern- und Zeitschal­ter
2.0 — smart-me M-BUS Gate­way — Inte­gri­ert z.B. Wärme, Wass­er und Gas-Zäh­ler
3.0 — smart-me

METER

1-Phasig — Stromzäh­ler · Steuerzen­trale im Gebäude
4.0 smart-me

METER

3-Phasig — Stromzäh­ler · Steuerzen­trale im Gebäude
5.0 smart-me L+G

MODUL

für L+G

E350

und

E450

— Erweiterung für beste­hende Stromzäh­ler
6.0 smart-me

KAMSTRUP

MODUL

für Omnipow­er — Erweiterung für beste­hende Stromzäh­ler
7.0 Maipu WiFi-Mobile-Hotspot,

3G

Router, ohne

SIM
8.0 smart-me Pro­fes­sion­al Cloud-Ser­vice, einmalig/Zähler